Learning how to care for your first snake is a rewarding experience, and one that is required if you want to ensure your snake's health and well-being. Before bringing a snake into your house, think about how big it will get and what size cage it would need for its environment.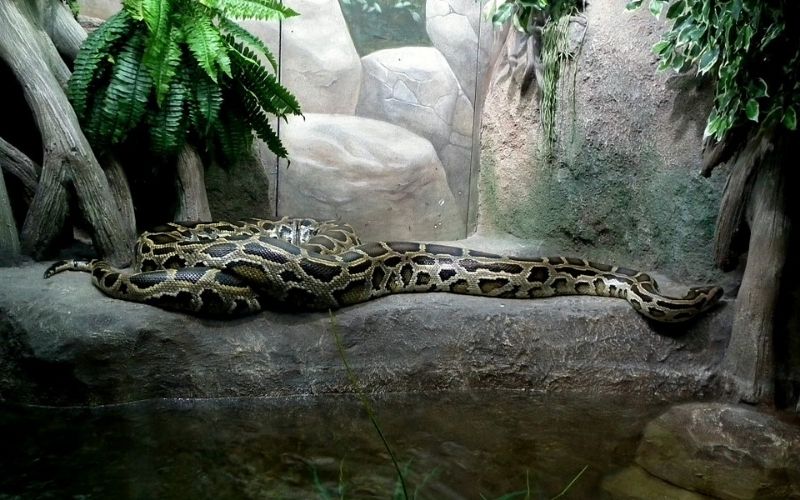 Everything else will be a lot easier if you have the correct cage for your snake. The improper cage, on the other hand, might become a problem, allowing your pet to escape or making it unduly tough to govern his environment.
Cage Environment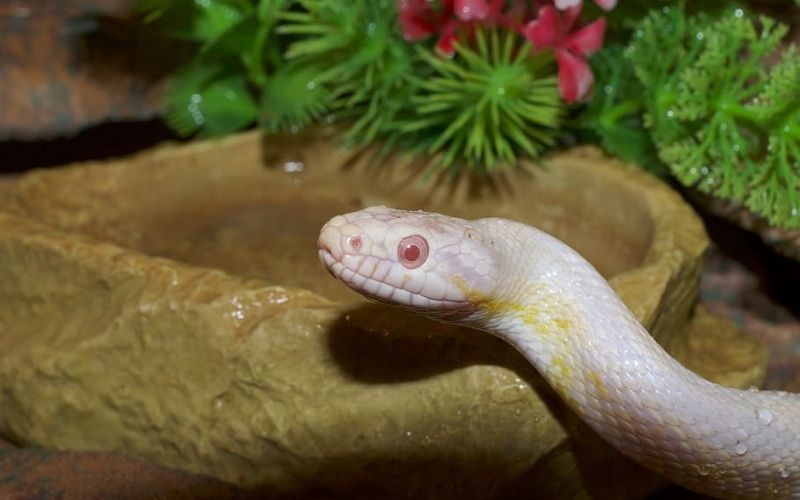 Most snakes may be divided into three groups based on their cage size. Garter and grass snakes may be housed in a 10 gallon or 20 gallon aquarium with ease. In 30-55 gallon tanks, king snakes, rat snakes, milk snakes, gopher snakes, and other colubrids will thrive. It's a different storey with boa constrictors and pythons. Adult boas and pythons often range in length from 18 inches to 32 feet. Some of them are above 500 pounds. Custom cages are required for these huge creatures. Consider making your own cage out of plywood or melamine if you are skilled in the industrial arts. Custom cages and kits are widely available if you don't want to build your snake's habitat.
Types Of Vivarium
Wooden Vivariums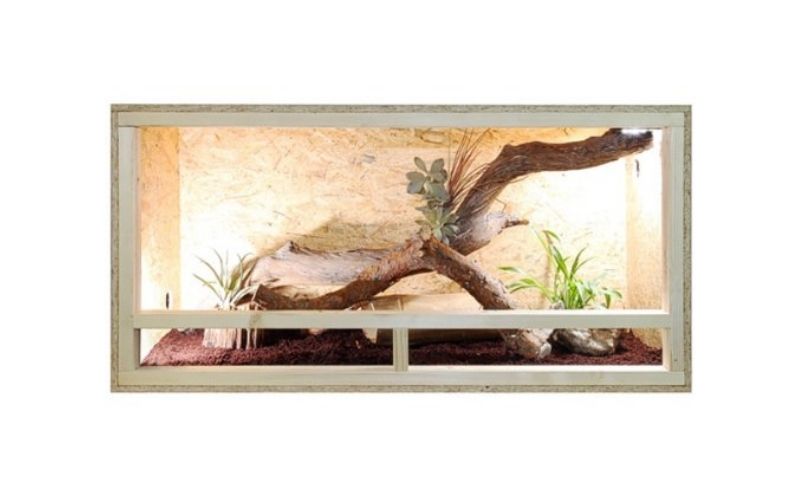 Wooden vivariums are among the most affordable and dependable cages for snakes. They usually come in a variety of "standard" sizes, either flat-packed or pre-built. Buying a flat-pack version is frequently advantageous for anybody with some basic DIY abilities, since they are straightforward to assemble yet are often easier to move flat, as well as being cheaper.
Advantages
Most specialist reptile stores have wooden vivariums on hand.
They're sturdy, adaptable, and fairly priced, and they look great if you pick a style that matches the rest of your furniture.
Drilling holes for electrics like heaters and lighting is normally quite straightforward with wooden vivariums, and the wooden construction also means that they maintain their heat effectively.
If you reside in a colder climate, this is perfect since you will be able to keep your snake warmer with less heating.
Disadvantages
Wooden vivariums are often heavy, making transportation difficult.
Ventilation in wooden vivariums might be a problem. Snakes enjoy fresh air and can become ill if they are deprived of it. Choose a wooden snake viv that has air holes if you want to keep your snake alive.
If left too wet, wooden vivariums can distort and decay. This implies that any water spilled within the cage should be soaked up as quickly as possible so that it does not seep into the wood and cause difficulties. Because most snakes prefer a drier environment, this is unlikely to be an issue for lizard owners.
Plastic Vivariums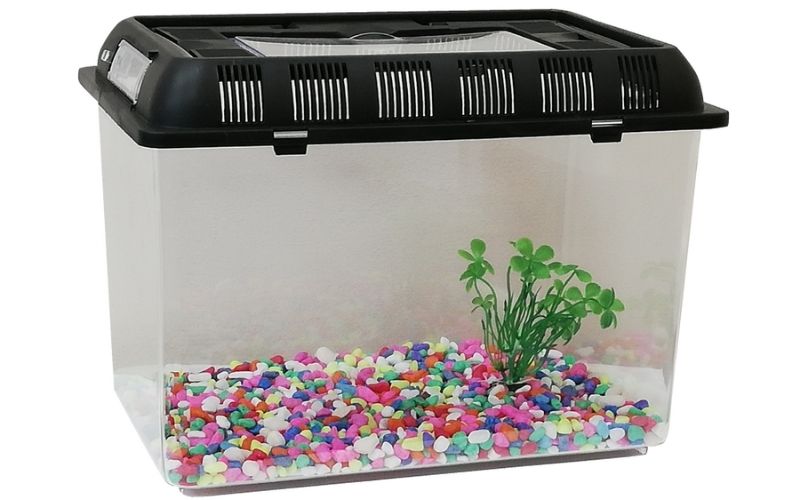 While wooden vivariums are still the most prevalent type of snake housing, there are a growing number of plastic vivariums on the market. It should be emphasised that if you want to investigate this option, you should attempt to find one that is especially intended for snakes rather than any other type of pet. The ventilation openings will be kept tiny to prevent escape, and the overall proportions will be long and low, allowing your snake to roam around freely.
Advantages
Plastic vivariums are lighter and stronger than wooden cages, making them much easier to move about. You won't need a substantial stand, table, or cabinet to put them on either.
Because of their ease of cleaning, plastic vivariums are sanitary. The germs and parasites may be readily removed from the moulded plastic vivariums using a towel and reptile-safe cleaning spray. In contrast, parasites or germs can persist in the seams between the panels in hardwood vivariums.
Disadvantages
Fitting electrics to a polyethylene tank is difficult. This is because, depending on the style you choose, you may need to either drill holes for electrical lines to poke through or remove plugs from your heaters and lights so that the cables may be carefully fed through the pre-drilled holes.
Plastic vivariums can be much more costly than wooden vivariums of comparable size. Before deciding whether the advantages of a plastic vivarium are worth the extra cost, compare costs carefully.
Glass Vivariums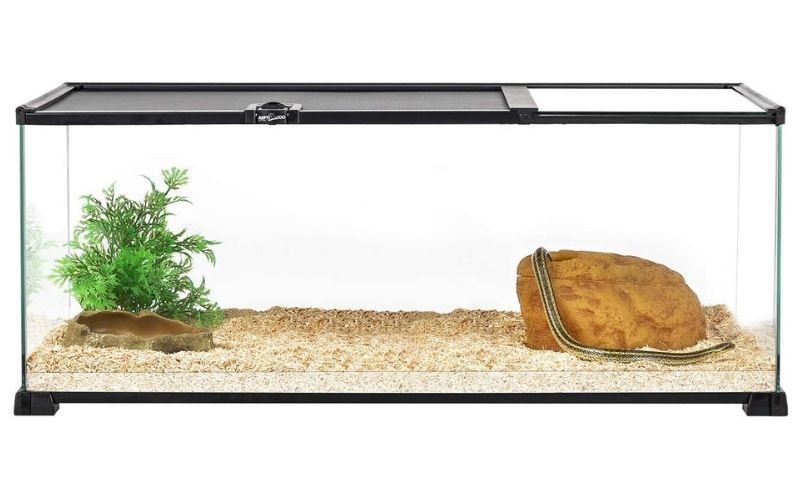 Specially built glass vivariums for reptiles have become increasingly popular in recent years. These tanks are usually made entirely of glass, with two hinged doors at the front for easy access. These doors can save time and effort by removing the need to raise lids or move glass panels for normal maintenance and feeding. This can also mean that you can stack glass vivariums on top of one another in some designs, allowing for an extremely space-efficient method to keep your snakes.
Advantages
The most elegant and professional-looking kind of housing is glass vivariums. They not only look good, but they also give outstanding visibility. An all-glass vivarium, unlike most wooden or plastic vivariums, has glass viewing windows on the front that offer vision from all sides.
This not only gives you a unique perspective of your pet, but it also allows you to keep an eye on it and do health checks without having to take it out.
Disadvantages
Glass vivariums are heavy and can break if dropped or bumped while being transported. If you reside in a cold region, their all-glass structure might make it difficult to keep them warm in the winter; after all, heat can readily move through the glass surface.
Electrics can be a problem to install in glass vivariums for snakes; after all, one can barely drill a hole in the side to put an electric wire through.
Converted Glass Tanks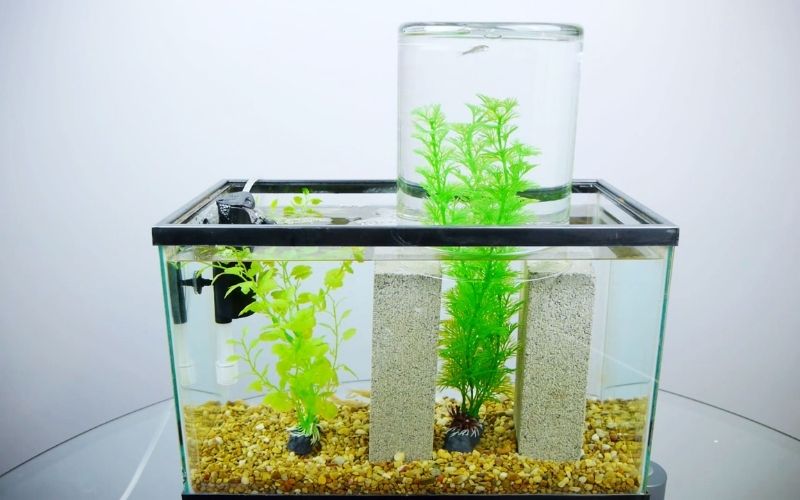 A converted glass aquarium is one last form of snake vivarium that is still encountered in the pet trade from time to time. Essentially, an unwanted fish tank may be used, and a reptile-safe lid can be purchased to cover the top and keep it secure. Although many individuals abandon the notion over time owing to impracticalities, this is typically a very cost-effective approach to keep snakes in captivity.
Advantages
Converting a glass tank is a simple process. Even in locations where there are few reptile stores, the majority of individuals will be able to obtain an aquarium. Even better, purchasing a used cage may save you a lot of money and provide you with a perfect cage for a low cost.
A proper cover must be constructed. These may usually be ordered at a reasonable price on the internet.
Disadvantages
Since converting a glass tank is so difficult, you'll want to think about where you'll put your vivarium. However, this is a minor flaw that is usually obscured by the two greater difficulties at hand.
Electrics might be tricky to install in all-glass aquariums like this one for snakes.
If you want to utilise an old aquarium as a reptile cage, you'll have to be creative.
These vivariums from above are inconvenient to use. Because you'll need to be able to remove the lid for any normal maintenance, this limits where you can put the cage.
Conclusion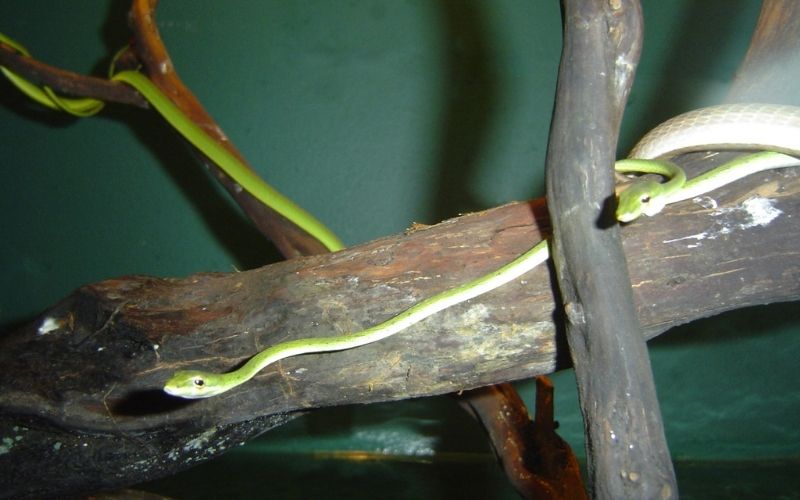 The best snake vivarium is impossible to find. Each snake keeper has their own preferences, and it's simply a question of weighing the possibilities available in your location and, using the information provided in this article, determining which solution is most suited to your needs.