Appearance
The box turtle has a tiny head and a hooked upper jaw, making it an intriguing pet with a distinct personality. Depending on the species or subspecies, their colour varies. Some have a lemon-yellow or olive-yellow head, and their shells range in colour from brown to olive-brown to black. Some have a large dark patch on their underside as well as black triangular markings with a brown or olive triangle behind the eye.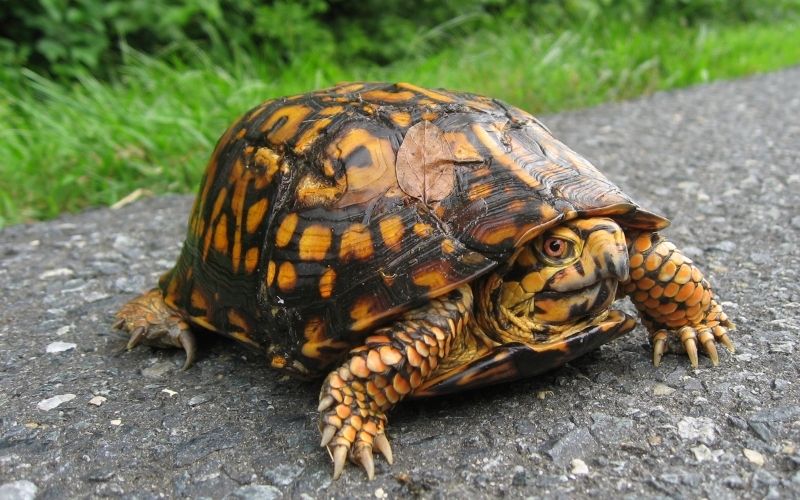 Their spines may be red or light brown in colour, or they may have three longitudinal stripes. By the time they reach the age of 15, box turtles should have reached the end of their growth cycle. Adults are around five inches tall and weigh 400 grammes on average. Box turtles live for 30 to 50 years on average, but some have lived up to 100 years!
Behaviour
Box turtles are not intended as pets for young children or inexperienced pet owners. This is owing to their extensive care requirements and vulnerability to stress, both of which can negatively impact a turtle's health. You can expect to spend at least a week cleaning and maintaining their enclosure, as well as feeding them every day or two.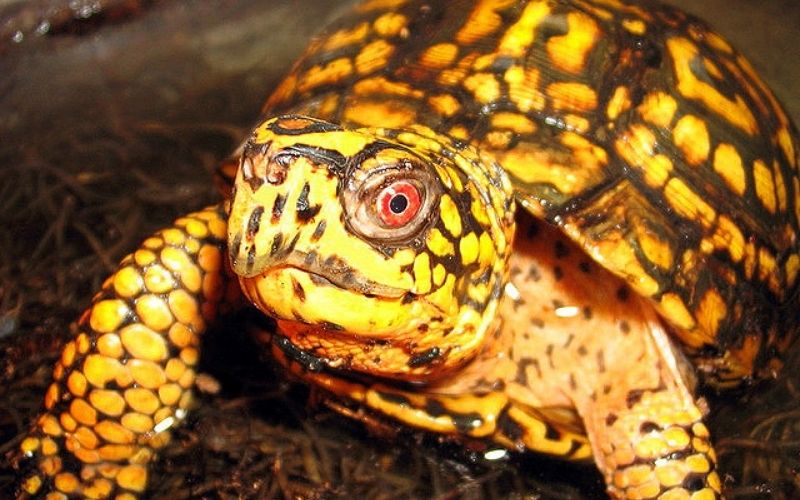 Box turtles prefer to remain in a consistent environment and avoid being touched by humans. They don't usually bite, however nervousness caused by overhandling can cause them to nip someone. Furthermore, they can contain salmonella, so wash your hands carefully after handling your turtle or anything in its habitat. Most box turtles will remember their keepers once they've become accustomed to their surroundings, even following a person's motions from inside their cage or asking for food.
Temperature Requirements
Daytime temperatures for common box turtles should be at 70 to 80 degrees Fahrenheit, with a basking area around 85 to 90 degrees Fahrenheit. The temperature might dip between 65 to 75 degrees Fahrenheit at night. To assist manage the temperature, use a basking lamp, ceramic heat emitters, or other heat sources.
For box turtles to digest the calcium in their meals, UVB illumination is required. They may get metabolic bone disease and possibly die if they don't get it. 2 Box turtles require around 12 hours of UVB illumination each day, which may be obtained from natural sunshine or a UVB lamp. To simulate a natural day-night cycle indoors, turn off the lamp at night.
Humidity
A humidity level of approximately 60% is ideal for box turtles. This may be achieved by misting on a regular basis and utilising a substrate that maintains moisture.
Housing
A wooden vivarium is required for a typical box turtle's enclosure. This is because wood is a great heat insulator, thus a wooden vivarium will make it simpler to maintain the critical habitat temperatures. The wooden vivarium should be well ventilated to allow for enough air flow in and out of the enclosure, as well as sealed to keep moisture and humidity out.
For a juvenile, the vivarium should be at least 860mm (34″) long, and for an adult, 1150mm (46″) long. The cage must be heated at one end and cold at the other, with enough space between them for the temperature to decrease.
Diet
Vegetation, turtle food, live feeder insects, and flesh make up a box turtle's diet. Dropping crickets or locusts into the pool for the live food component because they are both healthy and simple to digest. Snails and worms are common additions to the meat component of the diet.
Dandelion, clover, honeysuckle, leafy salads, watercress, curly kale, brussel tops, spring greens, coriander, parsley, rocket, carrot, parsnip, courgette, and bell peppers are all suitable for the vegetation component of the diet. Leafy greens should make up the majority of the vegetation. Supplements can be dusted on the salad, but we wouldn't dust the turtle food, meat, or live food since we don't want to contaminate the turtle's pool water.
Handling
It is critical for both you and your turtle to maintain excellent cleanliness. So, before you start touching anything, wash your hands.
Before you decide to handle them, make sure they aren't resting or feeding, and consider whether or not they are in the mating season.
Pick up your turtle with both hands from both sides of its shell.
Don't squeeze your turtle, but make sure it doesn't squirm out of your hands while it's flying.
Picking up your turtle by the limbs or turning it fast is not a good idea.
Even though turtles are gentle, they do best when handled just for examinations and cleaning.
Substrate Nature
The substance that lines the bottom of your box turtle's habitat is called substrate. It aids in humidity retention and satisfies the turtle's need to burrow. Furthermore, it can give the enclosure a more natural appearance and feel. As a result, try to choose a substrate that closely resembles the turtle's native habitat. Chemical-free topsoil, leaves, and moss are popular among gardeners. Wood chips help your turtle to burrow, so make sure you layer it at least 4 inches deep. It is not recommended to utilise soil or gravel since they might induce intestinal obstruction if consumed.The best choice of substrate is Coconut Husk. We recommend EcoBed Reptile Bedding. This is an 100% eco-friendly exotic bedding type provided for your pet reptile's comfort, made out of refined coconut husk chips.
Substrate Types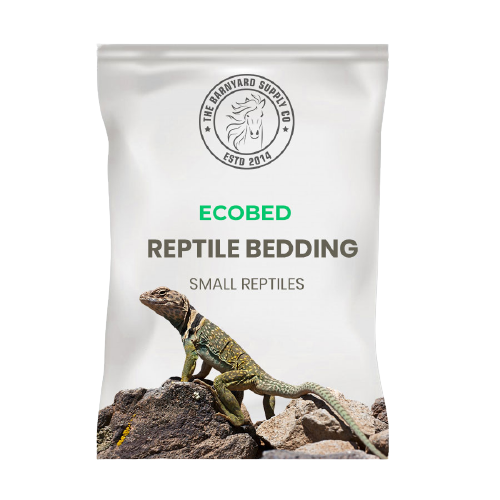 One of the safest and most effective reptile bedding options is coconut husks or chips. It's a must-have because it's soft, comfortable, absorbent, and aerated to perfection. Its absorbency keeps odours at bay, holds moisture for longer, and maintains a suitable temperature in the room. You can use it according to your requirements. Coconut bedding is non-allergenic, biodegradable, reusable, and recyclable, as well as being easy to clean and store.
Advantages:
Very natural look
Self-cleaning and easy cleanup of droppings
Affordable and good value
Disadvantages:
May attract mites and bugs over time
Wood Chips or Mulch
Wood chips or wood mulch is a common bedding item among turtle keepers. It's generally produced from fir bark or cypress, but pine and cedar generate poisonous oils and resin, so avoid them. Because wood chips and mulch are pretty excellent at absorbing water, they're wonderful for increasing the humidity of an enclosure, but they don't drain effectively.
Advantages:
Excellent for Humidity
Absorbs Odors
Can be Cleaned and Reused
Disadvantages:
Can Carry Mold Spores
Sharp Pieces can Pierce the Intestinal Walls
Large Pieces can Cause Impaction
Can't be Burrowed Into
Soil
One can't go wrong with dirt if you're searching for a natural sleeping material. Tortoises in the wild already walk on it and dig through it, so they're as natural as it gets. The best aspect is that it is really inexpensive. Tortoises may also readily burrow through this material without it crumbling too soon. If you want to place plants in your enclosure, soil is the finest substance for them to grow in.
Advantages:
Cheap and Natural
Great Moisture Retention
Good Structural Integrity
Can Be Mixed with Other Bedding Materials
Disadvantages:
Will Need to be Sterilized
Very Dusty when Dry
Might Contain Unwanted Critters or Materials
Strong Musty Smell
Gravel
Gravel is one of the simplest and most cheap turtle tank substrate alternatives. It comes in a variety of hues. It's simple to use, turtle-safe, and won't alter the pH or chemistry of your tank's water.
Advantages:
Colored natural materials with a non-toxic finishing
Turtles can tolerate a fine texture.
The pH or chemistry of tank water will not be affected.
Disadvantages:
Rough edges may be seen on certain stones.
Blue substrates may not appear as natural as other colours.
Conclusion
Box turtles have extremely particular needs that necessitate a rigorous husbandry routine. After a few weeks, though, this maintenance becomes very easy for first-time owners. Many turtle owners establish a lifelong relationship with their pets since they are docile and cheap.