The Bearded Dragon is widely regarded as one of the best lizard pets of all time. Bearded dragon owners like watching their lizards, whether during a feeding frenzy when chasing insects or simply socialising with one another, because they are noted for being vigilant, hardy, and tame. Bearded dragons have unique behaviours, such as "arm waving," in which a female or male lifts one of their front legs in the air and "waves" it as a submissive gesture. The lizard's prickly "beard," from which it gets its common name, can also be stretched, though tame captives rarely do so; dragons often do so when disturbed.
Behaviour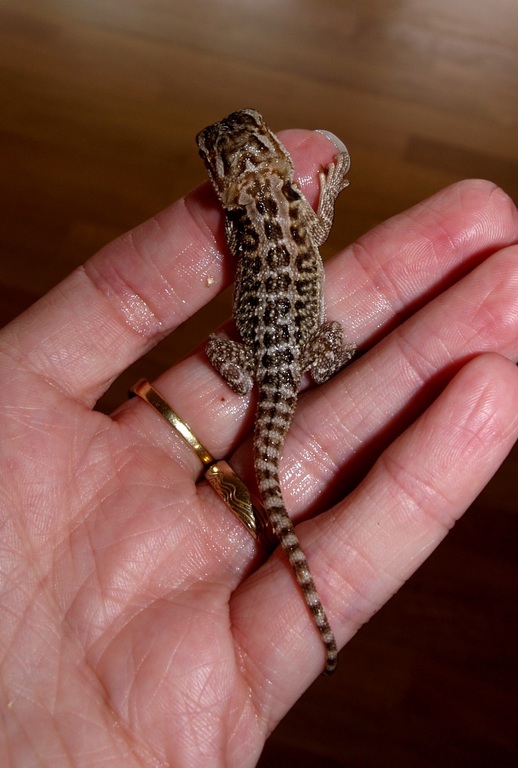 Bearded Dragons come in a wide range of colours. The dragon's 'beard' is the skin in the throat region that can flare out when it feels threatened or territorial. The spines on the throat, sides of the head, and sides of the body give the body a flattened appearance. The Bearded Dragon's head is wedge-shaped, and its tail is almost as long as its body. Males and females are difficult to discern among hatchlings and juveniles. Hatchlings are around 4 inches long, and huge adults can grow to be nearly 2 feet long. Sexual differences become more obvious as they get older. Males have larger heads and darker beards than females. Males are distinguished from females by their bigger femoral pores. The average captivity lifespan is six to ten years, while some specimens have been reported to live twice as long.
Humidity, Heating & Lighting
Ectotherms are bearded dragons. To feel comfortable, they'll need both a consistent source of heat and a cooled environment. A thermometer and a hygrometer (a device that monitors humidity) should be placed at each end of the dragon's housing. When the humidity level is between 20% and 30%, your bearded dragon will thrive. A little misting once a day is sufficient if the humidity is less than 20%. To allow the basking location to be the habitat's warmest spot during the day (about 100 F or 38 C) while simultaneously giving suitable levels of ultraviolet light, make sure your heat source is aimed on the same spot as your UVB bulb. The cool end should be around 75 to 85 degrees Fahrenheit (24 to 29 C). At night, turn off the lights. To keep the temperature between 68- and 74-degrees Fahrenheit, use a ceramic heat emitter or a night heat lamp (20 to 23 C). Bearded dragons, like you, are active during the day and sleep at night. They prefer to spend roughly 12 hours every day sunbathing under a UVA/UVB light, unlike you.
What do bearded dragons eat?
Bearded dragons are omnivorous, as they eat both animal and plant matter. They aren't choosy eaters and eat with pleasure. Crickets and mealworms should be given a vitamin/mineral supplement as well as calcium. Before giving the insects to your lizards, dust them by placing them in a plastic bag with some of the powder and shaking the bag to lightly coat the insects.
Offer finely chopped veggies to bearded dragons such as romaine lettuce, zucchini, carrots, etc.), greens (collard, mustard, dandelion, etc. and fruit like kiwi, banana, mango, etc. Appropriate number of powders should be sprinkled on these foods and healthy, vitamin-rich items should be used. Iceberg lettuce should be avoided as it is not nutritious. Commercially accessible meals from major reptile product manufacturers can also be given. These foods are specially created for bearded dragons and can be a great addition to your bearded dragon's daily diet of fresh foods. Pinky mice are also appropriate for bearded dragons, and a variety of nutritionally balanced manufactured diets are available at pet stores. If you're keeping your dragons on sand, serve food in a shallow dish rather than putting it on the substrate.
Water for bearded dragon
Use a water spray bottle to mist bearded dragons. They'll lick water droplets off cage walls, rocks, and other surfaces, as well as themselves. Don't go overboard; you don't want their enclosure to grow too damp and humid. Provide water in a large enough dish for them to soak in. Be sure to keep this dish and the water in it clean.
How can I keep my bearded dragon healthy?
Bearded dragons are more gentle than other lizard species and will accept handling better. Of course, there are exceptions to this rule, such as adults who have lived their whole lives in captivity.
For the first three or four days, avoid handling your new reptile. They require some time to adjust to their new surroundings. Aside from yearly annual physical exams, if you notice any of the symptoms in your reptile, it may be time to see a veterinarian like more hiding time than usual, less eating and drinking, possibly even weight loss, swollen joints, discoloured and shedding skin, abnormalities with the eyes, nose, or mouth, runny or abnormal droppings for more than two days, lack of droppings for extended periods of time.
All animals have the ability to spread infectious viral, bacterial, fungal, and parasitic diseases to humans. Before and after contact with any pet or its habitat, thoroughly wash your hands with warm, soapy water. After coming into contact with a pet, its habitat, or aquarium water, adults should help children wash their hands.
Interesting facts about Bearded Dragons
· Their name comes from their "beard" of scales around the neck.
· They wave to acknowledge each other.
· They have plenty of behaviours unique to their species.
· They love to sunbathe.
· They can run up to 9 miles per hour.
· They love going on walks on a leash.
· They enjoy swimming.
· They can regrow their teeth.
· They can sleep standing upright.
· They can run on two legs.
· They can change their skin color.
· They make a hissing noise when defending territory.
· They produce venom.
· Bearded dragons don't urinate liquid.
Substrate for Bearded Dragons
A high-quality substrate is critical for your bearded dragon's health and comfort. The medium that makes up the flooring in an enclosure is referred to as the substrate. Create a more comfortable and natural environment for the bearded dragon by using a substrate material. There are many various types of substrates to choose from, some of which are superior to others.
Coconut Husk
Coconut husks or chips are one of the safest and most effective reptile bedding solutions. It is one to know because it is soft, pleasant, absorbent, and wonderfully aerated. Coconut husks for little one and chips for larger reptiles are available. Its absorbency keeps the odour intact, holds moisture for longer, and keeps the room at a comfortable temperature. You can make use of it according to your needs. You can use it straight away without hydrating the compacted chip blocks for high-humidity reptile, or you can hydrate the block, crumble the pieces, and scatter it around the container for low-humid seeking reptile. Coconut bedding is simple to clean and store, as well as being non-allergenic, biodegradable, reusable, and recyclable.
Calcium sand and Playground sand
Calcium sand and playground sand are two of the most common substrates for bearded dragons. Pool sand is a wonderful choice because it is usually cleaner than playground sand. These sands give the terrarium a truly desert feel, and they're usually easy to keep clean. This sand can be found in a variety of colours. They're formed of calcium and have a look and feel that's extremely close to genuine sand. This material encourages bearded dragons' natural digging inclinations while also retaining heat within the habitat.
Another alternative is to use playground sand, which is relatively affordable and easy to get around. These may easily be found in pet stores. To be safe, bake playground sand in the oven at 350°F for around 15 minutes to eliminate any potentially harmful germs or bacteria. Replace sand-based substrates once a month, and clean up any spills immediately.
Cage Carpet
Cage Carpet developed exclusively for reptile terrariums. It looks like the green or brown indoor/outdoor carpet that was once used to imitate grass. This is a low-cost, low-maintenance alternative that is very effective. It's simple to clean, replace, and maintain, as well as being reasonably priced. It's not the most appealing substrate, but it's one of the most secure. Because there are no small loose particles for the bearded dragon to swallow, there is very minimal chance of impaction when using this substrate.
Cage carpet is simple to clean and remove. At least once a week, remove the carpet and clean it with warm water and a light soap. Before returning the carpet to the terrarium, make sure it has been fully rinsed and dried. Any leftover food or waste should be cleaned as quickly as possible. The carpet should be replaced every three months or as needed.
Newspaper
Newspaper is another viable substrate option. An easy approach is to use newspapers, which is generally readily available in the home. Cover the entire floor area with three or four layers of newspaper. Newspaper substrates should be replaced on a daily basis. Clean up any spills right away or as quickly as possible. While not particularly appealing, newspapers are a very cost-effective option.