Snakes make excellent pets. They are simple to maintain, clean, quiet and they do not require frequent engagement. They also need very little specialised equipment for optimum care and handling. It's crucial to realise that snake care is really not something that can be generalised. Certain species require particular handling techniques, so do your study on the species to learn more about how to care for your pet snake properly.
It's critical to provide your snake with the best possible care by simulating its natural surroundings as nearly as possible. Investigate your snake's native environment, such as fields, marshes, meadows, tropical woods, or deserts.
Temperature and Lighting
Snakes are cold-blooded and require a source of heat to maintain their body temperature and maintain good health. There should be a warm and a cool side to your snake's terrarium. The majority of snakes demand a consistent temperature of 75°F to 85°F. For most of the pet snakes, keep the warm side at 80-85 degrees Fahrenheit and the cool side at 70-75 degrees Fahrenheit during the day. This gradient can be maintained by under-tank heating or overhead heat bulbs. The entire terrarium should be 65-70°F at night. Tropical species require slightly greater temperatures in the basking area, up to 90°F, as well as increased humidity 75-90 %.
For maintaining this temperature, you can provide a heat bulb to top of the cage or heat tape at the bottom of the cage. An under-aquarium heating pad and an incandescent reptile light fixture with a spot light or ceramic heater can be strategically placed to achieve this. Your snake can control his own microclimate by locating the hiding spot in a cooler corner.
Housing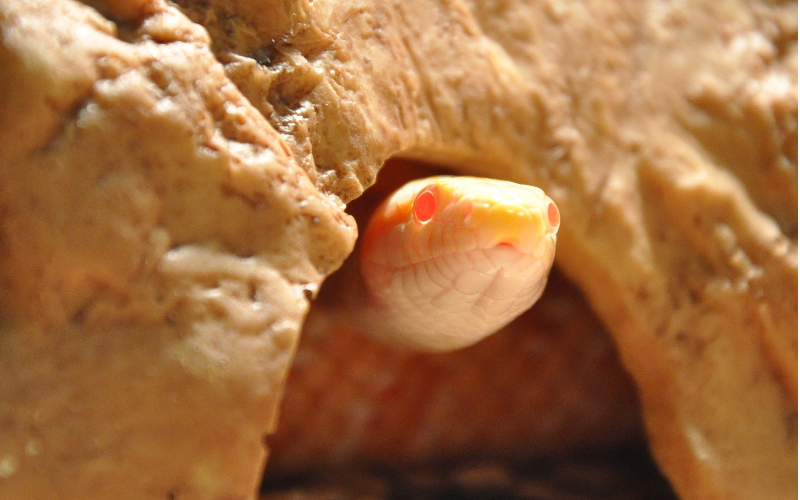 Aquariums with a lockable screen cover make excellent snake housing. They will keep cold-blooded animals warm while also allowing for optimal visibility and proper ventilation. Snakes use both vertical and horizontal surfaces, so there should be enough room for them to stretch out and move about freely within their enclosure. Unless you want to keep an arboreal species such as a rough green snake, a ribbon snake, or a tree boa that require height for climbing, an aquarium that is longer and deeper than it is tall is optimal. Snakes may strike or rub against the wire on the side walls of an enclosure, inflicting harm to the snake's face or skin. Security-oriented screen covers are a must-have. Make sure the enclosure has a good locking system. Snakes can climb over glass walls, push open covers, and squeeze through small spaces, making them excellent escape artists.
Diet and Nutrition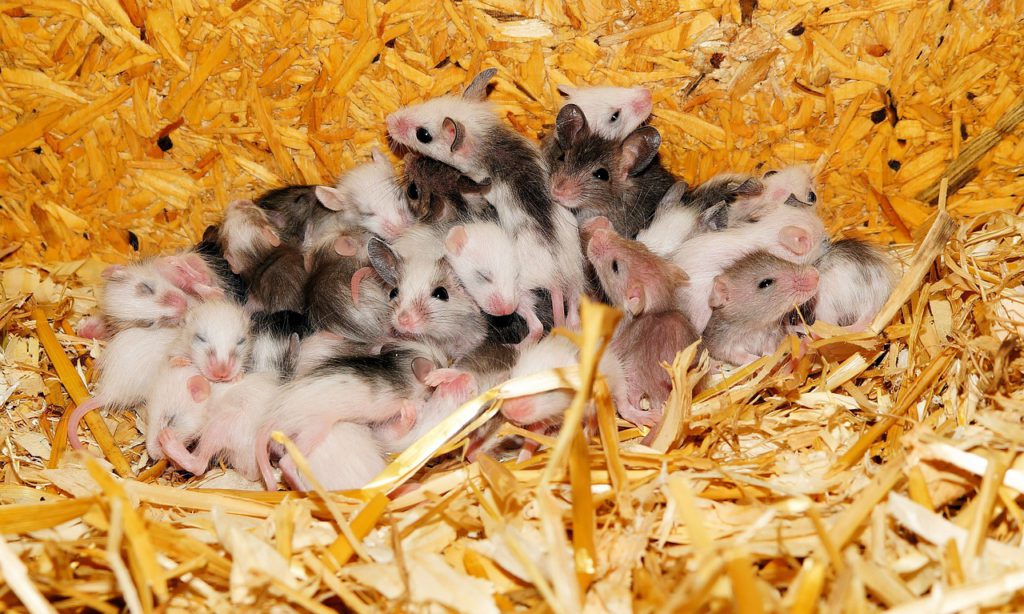 Snakes are all carnivorous. They eat mice, rats, chicks, fish, eggs, red worms, and crickets in captivity. Newborn snakes are preferring pinky mice. Water snakes and garters are fed nightcrawlers and minnows. Green, decay, and ringneck snakes are fed live crickets, earthworms, insects, and caterpillars. Many desert species only eat lizards, while hognose snakes only eat toads. Bird eggs, as well as birds themselves, are common foods for other species. Most snake species that consume amphibians, reptiles, or birds in their natural habitat can be trained to eat rodents. The type of diet and frequency of feeding will vary depending on the snake's species, age, and season. Snakes should be fed once per 1 to 2 weeks in most cases. Although your snake's jaw can expand to swallow a rodent larger than its head, it is a good rule of thumb to never feed a prey item that is substantially thicker than the snake's thickest point. Feed frozen rats instead of live rodents whenever feasible. Live rodents, which may bite in self-defense and damage your snake, are safer and healthier to feed. Furthermore, the freezing process will have killed most internal or external parasites that the prey item may have carried. Thaw the rodent until it is slightly warmer than room temperature before feeding it to your snake. Do not allow the rodent to thaw in locations where food is prepared.
Provide a large enough water dish for the snake to soak in. This will provide lots of water for your pet, as well as serve to raise ambient humidity and aid in shedding. A water dechlorinate should be used with all tap water. Once a day, change the water.
Handling and Safety
Small snakes are generally very easy to handle. When handling your pet, avoid being overly harsh or making rapid movements to be on the safe side. You should study the behaviour of your snakes. Some snakes are active in nature who will benefit from time spent outside the vivarium exercising. Approximately 10-15 minutes 3-4 times a week is a suitable amount of time for handling these kinds of species, but this may vary depending on the particular snake. Some snakes are shy, they don't like being handled. Give a few weeks to settle a new snake into its new home and into a regular feeding routine before handling it. You can start handling your snake after 3-4 successful meals. Lift it up gently but with confidence or else it may get scared and bite you. Snakes over 6 feet should never be handled alone. Large snakes over 10 feet should never be handled with less than 3 people. Always keep in mind that mishandling such a massive and powerful creature might lead to disaster.
Handle young snakes just once or twice a week. Wait a few days after feeding your snake before handing it over; this will allow the snake to digest its prey.
When holding your snake make sure that you are providing full support for the whole body of the snake. Once they understand that you are not hurting them, they often seem to enjoy being handled. To make them comfortable, give them time to get to know you. Try to avoid touching the top of the head. It will cause irritation to your snake. Give your snake time to settle into its enclosure before handling.
Before and after handling your Corn snakes, it is important to wash your hands with anti-bacterial wash.
Cleaning
Good cleaning, care, and handling will assist to keep your pets healthy and limit the risk of your snake infecting humans. Proper care to keep your pet healthy, in addition to giving the correct feed, temperature, and humidity. Clean the enclosure on a daily basis and remove any droppings. Cleaning the branches and pebbles, changing the substrate, removing any large clumps, and wiping down the glass should all be done on a weekly basis.
Snakes should be handled with caution and under the supervision of an adult. A snake may be startled by sudden movements, forcing it to attack defensively, resulting in significant harm. After touching your snake, you should always wash your hands with antibacterial soap. Cleaning is very essential to keep your snake healthy.
Common health issues
· Mites: Check your snake for mites on a regular basis. Mites might cause skin irritation for your pet snake.
· Dysecdysis: Also known as abnormal shedding, dysecdysis is often caused by inadequate humidity levels. If you see that your snake is experiencing an incomplete shed, have the snake bathe in a large container of water and increase the humidity level in the enclosure.
· Respiratory Infection: Respiratory infections are caused by viral or bacterial infections. Common causes of respiratory infections include improper temperature, ventilation, or excess humidity.
Enclosure
Snakes often thrive in smaller habitats. Larger dwellings may cause your pet snake to become agitated. In a 20-gallon tank, most snakes will be content. To minimise territorial disputes, difficult feeding, and even cannibalism among some snake breeds, several snakes should be maintained separately. To keep your snake from fleeing, make sure your terrarium has a secure lid.
Substrate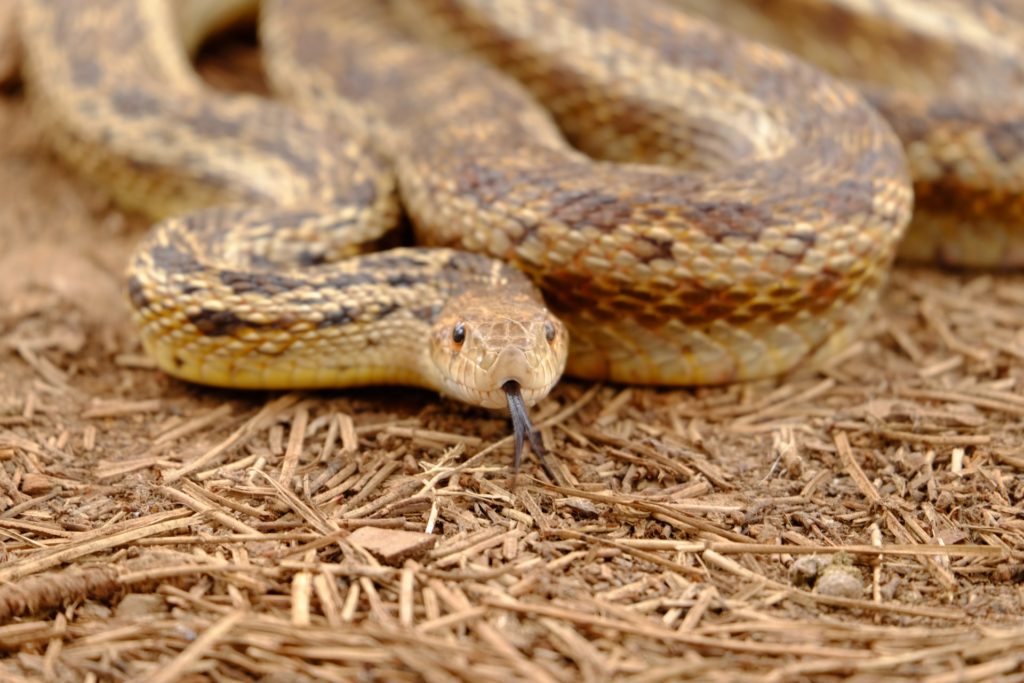 The type of bedding that will line your snake's habitat is known as a substrate. A suitable substrate will maintain moisture efficiently, will not emit foul odours from uric acid absorption, and will not be easily swallowed or inhaled by your pet snake. Burrowing and non-burrowing snakes will benefit from cypress mulch, aspen shavings, and coconut fibre. They maintain humidity and manage odour inside the snake's cage while posing no risk of impaction (constipation). Newspaper and paper towels are free solutions, but they don't have a high moisture tolerance and aren't suited for burrowing snakes.
Not all forms of bedding are suitable for snakes kept in captivity. Sand, is easily absorbed by your snake, causing rigid stools and constipation. Any substrate containing cedar or pine should be avoided since it emits oils that are detrimental to snakes and reptiles in general.
Conclusion
Snakes make excellent pets for experienced owners. In order to thrive, they require the right tank and temperature conditions. Proper care must be taken to keep your snake healthy. A pet snake can be the ideal pet for you if you have the necessary experience, dedication, and education.