The gray-banded kingsnake (Lampropeltis alterna) is an excellent pet snake. It does not grow to a huge size, is a good eater on easily obtained food items, and has lovely colours. Gray-banded kingsnakes can be found in west Texas, New Mexico, and northern Mexico in the wild. The gray-banded kingsnake is one of the most sought-after snakes in the world because of its extreme diversity.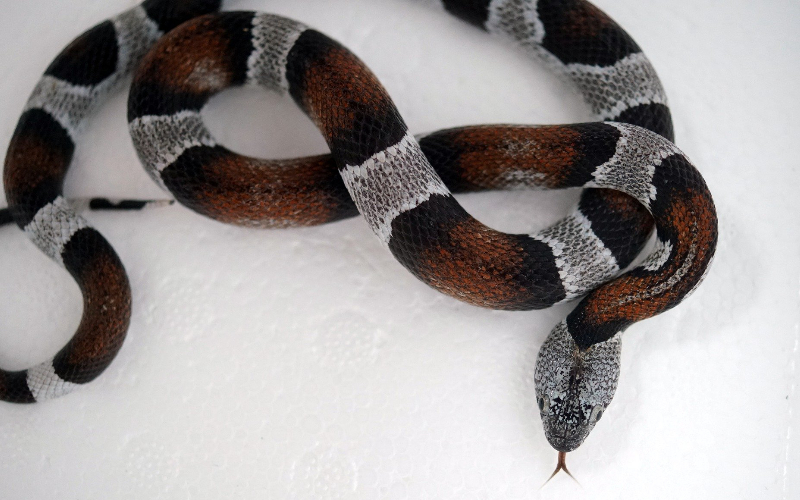 Behaviour
Gray-banded kingsnakes can be found in a variety of habitats. These snakes are known for being simple to tame and loyal. They're also simple to teach, particularly when it comes to feeding times and routines.
Gray-banded kingsnakes are available in a wide range of hues, from sparkling light grey and orange to darker variants. Gray-banded kingsnakes range in size from hatchlings of 10 inches to adults of more than 3 feet. They have a 15-year lifespan. Gray-banded kingsnakes can live up to thirty years if you give them the greatest possible care.
Temperature Requirements
During the day, grey-banded king snakes require temperatures between 84-90 degrees. Temperatures should be between 68 and 75 degrees at night. If you keep your snake too cool, it will regurgitate, so keep the daytime temperatures consistent. If your snake is continually moving in its enclosure and finds it difficult to settle, adjust the temperature on both ends gradually. Using temperatures to help your snake's health is another option. During the winter, lower the temperature even further. This will provide the snake with a climate that is comparable to that of its natural habitat.
Humidity
Humidity should be kept low to avoid respiratory issues. Gray Banded King Snakes require around 60% humidity. Place a damp plastic box with damp paper towels inside to keep humidity. The cover should have a hole the same size as your pet's, and it will also help to increase humidity in the living space. You also can provide a water bowl or small dish.
Lighting
When it comes to lighting, kingsnakes don't normally rely on it, and they don't usually engage in basking behaviours. Extra heat sources, such as hot lights or specialised bulbs, are not necessary. If you want then you can install UVB lighting as a supplementary heat source.
Handling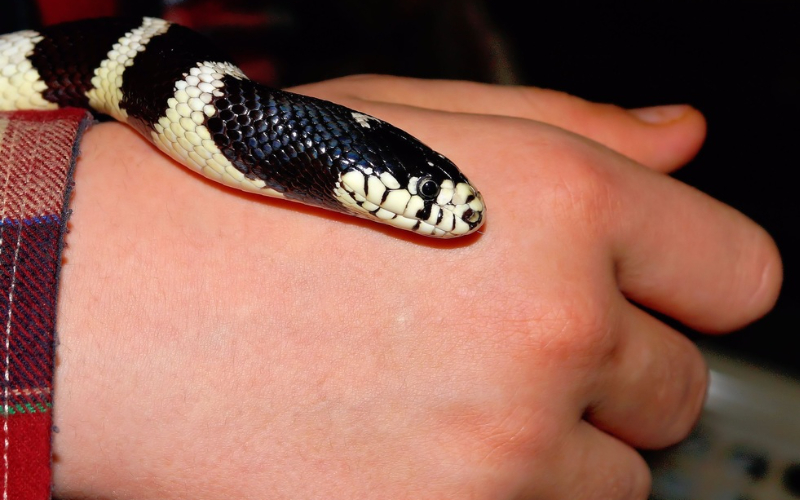 Gray-banded kingsnakes normally don't mind being handled gently. If your snake has a strong feeding reaction, gently nudge it with an inert object before reaching into its enclosure to avoid it from mistaking your hand for food (such as forceps). This informs the snake that it is not time to eat.
Allow a gray-banded kingsnake to slither around in your palms without being constrained. Don't hold on to it too closely. You can get a slight nip if you try to detain the snake too violently, or the snake may exude musk to show its dissatisfaction. So that your snake does not feel intimidated, always support it with both hands.
Cleaning
As needed, the terrarium should be cleaned. Several times a week, any faeces should be wiped out. Once a month, the bedding should be fully replaced, and fresh, clean water should be available at all times. A suitable reptile cage cleaner can be used to clean the inside of the terrarium. King snakes can be handled on a daily basis, but wash your hands thoroughly before and after touching them.
Diet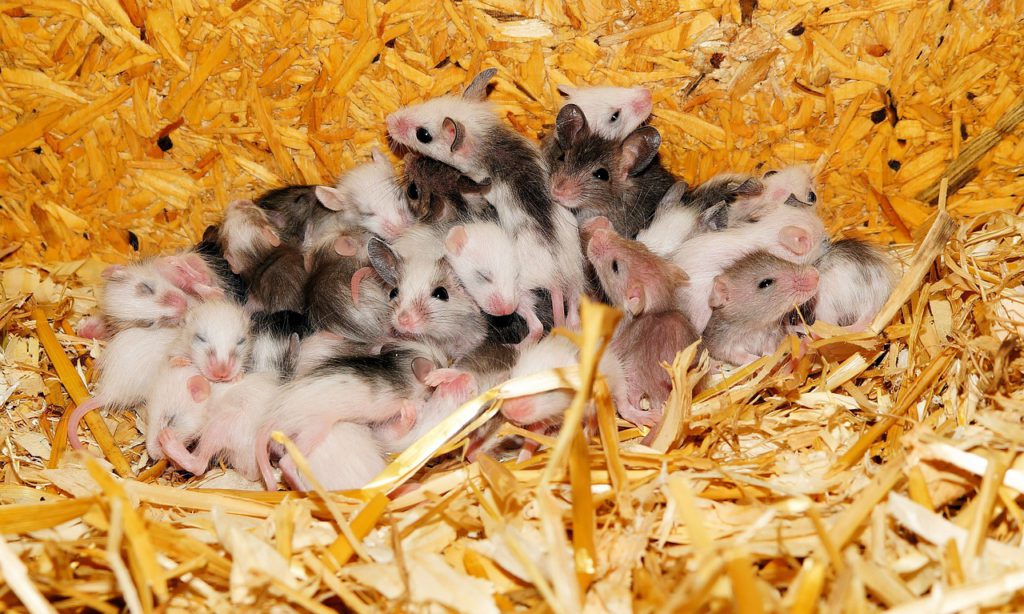 Gray-banded kingsnakes prefer to eat mice and other common reptile diets. However, a few lizards might be helpful to get them started. Then introduce them to mice and rats, which will be their sole source of nutrition for the rest of their lives. Feed the hatchlings a pink mouse that isn't dressed. Adult gray-banded kingsnakes eat small adult mice, while juvenile gray-banded kingsnakes eat fuzzy baby mice.
Potential Health Issue
Mites
Mites are small black parasites that grow on and feed on the blood of your King Snake. Mites are generally seen around the eyes, mouth, and under the scales of a King Snake that has caught them. During a mite infection, your snake will appear lethargic and may refuse to eat. If you find mites on your King snake, bathe it in warm water immediately and thoroughly sanitise the tank and contents.
Respiratory Infections
R.Is is a bacterial infection induced by poor cage conditions, low temperatures, or excessive humidity, but it can also be spread from snake to snake. Excess saliva and nasal discharge can make king snakes sound wheezy. Very mild R.Is may go away themselves If the snake's living conditions are improved, it may go away on its own, but major illnesses should be treated by a veterinarian right enough to avoid Mouth Rot or even death.
Regurgitation
Regurgitation can be a sign of a variety of digestive issues, illnesses, and stress. If a King Snake is handled too soon after a feeding or if it is fed an item that is too large for it, it may regurgitate its food. In this situation, you should give the snake a week to settle down before feeding it again. If your King Snake regurgitates its food frequently, loses a lot of weight, or shows any other indicators that concern you, seek medical help as soon as possible.
Substrate Nature
You can utilise shavings, paper towels, and newspapers as terrarium substrates. It is necessary to spot-clean the substrates at least twice a week and to change the full set of substrates every two months to preserve cleanliness. Allowing dirty substrates to remain in the enclosure for an extended period of time will lead to the growth of hazardous germs, which can cause snake illnesses or even death. No Cedar or Redwood Shavings should be used in predator or prey enclosures since they are poisonous to all animals. Cedar and redwood should not be utilised in the construction of animal housing, nor in any furniture or panelling in a vivarium that houses animals.
To clean the terrarium, combine 95 percent water, 5% bleach, and a few drops of liquid soap. This solution must be used to thoroughly clean the cage before installing the new substrates. Clean the snake's water bowl and hiding spot with this solution as well. Before returning everything to the cave, make sure it is completely dry.
Substrate Type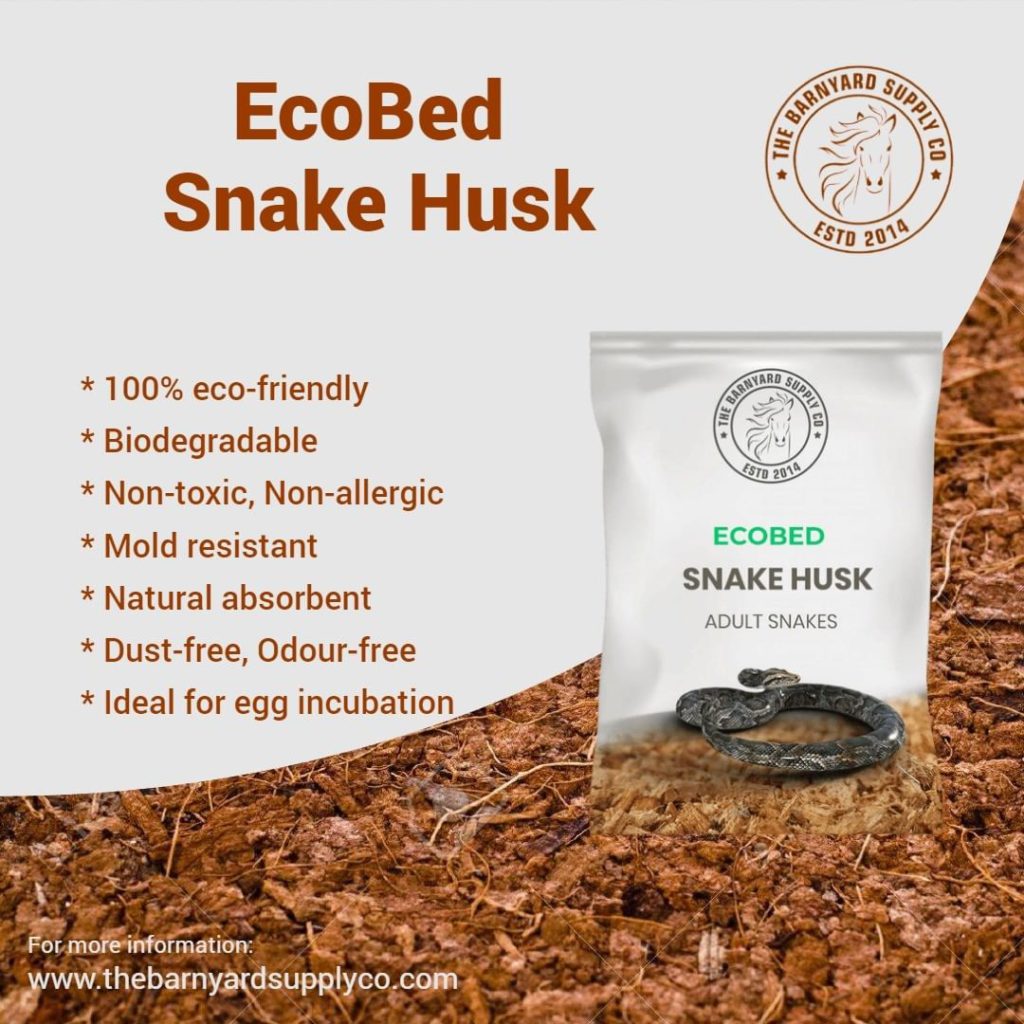 Coconut husk is a light, easy-to-clean, and appealing material. It is more expensive than other substrates. It absorbs odours and binds them to the substrate. It's a non-toxic, dust-free substrate that's completely chemical-free. It doesn't mould and absorbs a lot of moisture.
Aspen Shavings
For King Snakes, aspen shavings can be used. As its shavings cannot be cleaned, they must be removed and replaced with new shavings as they become dirty. If you're using aspen shavings, you may scoop out the urine and excrement with a cat litter scoop and replace it with fresh aspen as needed. Remove any soiled substrate as soon as possible; urine-soaked material may serve as a breeding ground for bacteria, potentially harming your King Snake. You must feed your snake in a secure environment if you use this type of substrate; you do not want it to consume any of the shavings.
Newspaper
For years, animal keepers have used layers of newspaper. When multiple layers are utilised, it is relatively absorbent and affordable to replace. The inks used in printing, on the other hand, are known to be toxic to animals. Unprinted sheets are available from moving supply stores, and roll ends are available from some newspaper companies. When multiple sheets are used, it is relatively absorbent, similar to printed newspaper, especially when layered with paper towels. Unprinted sheets and rolls, unlike printed newspaper, are free of potentially toxic inks that could injure your King Snake.
Beech Chippings
Beech Chippings are widely accessible at most reptile stores and make for a beautiful vivarium substrate. It's available in three sizes i.e. small, medium, and large, so you may pick the one that's right for your snake. Although it is not as absorbent as Aspen, it allows for spot cleaning. Burrowing snakes do not prefer it as a substrate.
Astroturf / Artificial Grass
The first artificial grass floor covering was Astroturf. Since then, carpet producers have released a variety of artificial grass grades. In most hardware stores, there are two or more grades. The cheapest option is usually the best to use. It's more adaptable, which is important for complete cleaning and disinfection. Pieces can be washed and disinfected multiple times before needing to be replaced. Astroturf® is affordable enough that several pieces for each enclosure can be cut and rotated every cleaning day. Many pet shops and mail order pet suppliers sell fake grass substrate in small, packed pieces that are identical to the stuff found in building supply stores.
Conclusion
One of the snake species that can be kept as pets is the gray-banded kingsnake. They don't get very big, and they're usually simple to feed. These harmless snakes are not venomous and pose no threat to people.